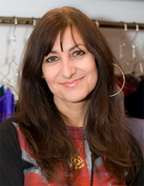 While other little girls were playing "mommy" with their dolls, Lois Eastlund was designing and making clothes for her Barbie dolls and staging "Bryant Park-esque" fashion shows. Born and raised in New Jersey, Lois knew early on that she wanted to be a designer.

After graduating from FIT with a degree in Fashion Design, Lois began a successful career in the fashion industry, designing men's/ boy's wear, and junior/ tween sportswear. In between her stints in the garment industry, Lois also had her own East Village Boutique, and wholesaled her line of streetwear to shops throughout Europe, Asia, and the US, including "Patricia Fields", in New York City.

Lois' work has been featured in, Seventeen Magazine, Sassy, Women's Wear Daily, The Village Voice, New York Magazine, Sportswear International, Swing Magazine, Children's Business, ElleGirl Magazine, and The New York Times.

Lois' eponymous line of clothing, (men's tops and women's dresses), are all designed and created in her East Village Studio. The complete collection can be seen at her Boutique, "Lois Eastlund", 153 Ludlow St., New York, NY 10002, 212-777-1470.
©2005-2011 Lois Eastlund