I developed a fondness for fashion at an early age. Between my mother's rule of thumb that I shouldn't ever wear the same outfit twice — I regularly refreshed my wardrobe — and my proximity to the epicenter for fashion — growing up near New York C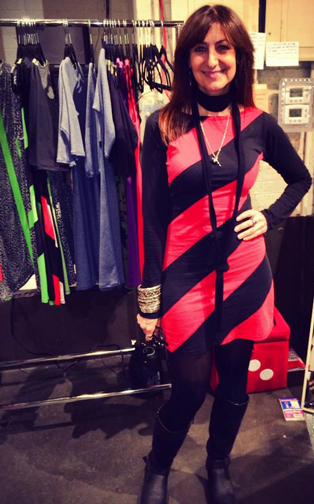 ity, in New Jersey— my apparel path was paved long before I attended the Fashion Institute of Technology.

What began with Barbie Dolls dominating a makeshift white tent in my bedroom version of Bryant Park, ultimately led me to a serious career rooted in clothing creation and appreciation. (To say nothing of my four very real New York Fashion Week presentations.)

After retiring my Mattel® talents and later graduating from FIT with a degree in fashion design, I entered the fashion industry, where I found great success designing menswear, womenswear, junior sportswear and tween clothing for various companies..

Between stints working in Manhattan's bustling Garment District, I operated my own shop in the East Village. During this time, I also wholesaled my streetwear line to independent boutiques throughout Europe, Asia and the US, including New York City's , Patricia Fields.

In 2008, after years of freelancing, vending at weekend markets and participating in an independent designer co-op in NoHo, I opened my "Lois Eastlund" boutique on Ludlow Street in the Lower East Side. For five wonderful years I sold my line of women's dresses and men's shirts that embodied my retro inspired timeless aesthetic — bold patterns and flattering lines that continue to define my brand to this day.

In 2013, I made a bittersweet but strategic decision to shutter the store and focus on the future of fashion: e-commerce. With the power of online in mind, my print on demand designs can be found on Amazon, Redbubble, Etsy, Teespring and Society6. I also take advantage of real life pop-up opportunities and can be found selling my designs at local shopping events. (I love interacting with my customers!)

I have been mentioned or featured in The New York Times, Women's Wear Daily, New York Magazine, Seventeen Magazine, ElleGirl, Sassy, The Village Voice, Sportswear International, Children's Business, Swing Magazine and Solis Magazine. Various online blogs, including Business Insider and Chic Vegan. Podcasts include - Main Street Vegan, Vegan Business Talk with Katrina Fox, and Vegan Styled Life. CBS News This Morning, Toni On! and WPIX News can be counted among my TV spots. See my designs in action on The Vegan Roadie Season 3 Ciao Italia!
Speaking of vegan, I adopted a plant based diet — and lifestyle — in 2011. Although this was when I stopped eating meat, dairy and eggs, my clothing line has always been 100% cruelty-free, made by me from natural vegan fabrics in my Greenwich Village home studio. Further reinforcing my commitment to compassion, I have been a vocal advocate for animals, volunteering my time and donating when I can to causes close to my heart. In 2014, Adrienne Borgersen and I co-founded La Fashionista Compassionista, an online vegan fashion and beauty magazine. Although I am no longer part of LAFCNYC, I continue to support Adrienne and the magazine!
My hobbies include pilates, yoga, riding my bike around the city, exploring all the vegan offerings NYC has to offer, and spending time with my adorable cat companion, Stormy Girl.

Interested in connecting with me? Contact me here or interact/follow me on Facebook, Twitter, Pinterest, and Instagram.